Job Opportunities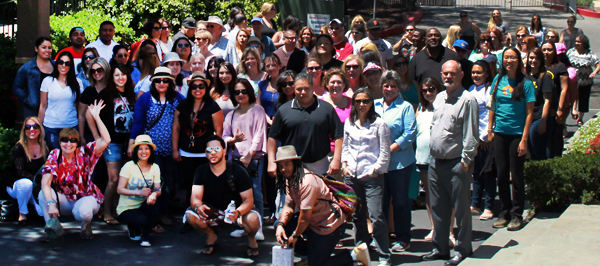 Bill Wilson Center has been recognized as a Bronze Level Family-Friendly Workplace by the County of Santa Clara's Commission on the Status of Women, Office of Women's Policy, and Workplace Collaborative.
This award recognizes BWC's outstanding efforts to create a workplace that supports the needs of working families and your commitment to ensure all of your employees have equal support and every opportunity to succeed and thrive in the workplace.
---
Bill Wilson Center is a nationally and regionally recognized leader for providing services to at-risk youth and families. Our agency -- from our executive team to our line staff -- is committed to improving the lives and conditions of the people we serve. Our staff provides services to more than 5,000 children, youth, young adults and families in Santa Clara County. We reach nearly 33,000 clients through our street outreach and crisis line programs. BWC provides services that meet the cultural and linguistic needs of our whole community. We value our unique ethnic diversity as well as the LGBTQ community and non-able body community. Join us and become a difference maker at Bill Wilson Center!
In addition to the personal rewards of changing the lives of the clients we serve, BWC provides a very competitive salary package as well as employer paid benefits for full time employees (including Medical, Dental, Vision, Life Insurance/AD&D, Long Term Disability, Employee Assistance Plan (EAP) and Travel Assistance Program). We offer 401(k) and 403(b) retirement savings options plans with discretionary employer contributions for qualifying employees! Employees also have the option to elect Flexible Spending Accounts for healthcare, dependent care and commuter expenses or additional voluntary coverage for Life/AD&D, Accident, Short Term Disability, Cancer or Critical Illness insurance. BWC also offers a Staff Wellness Program which provides initiatives and opportunities for overall staff wellness including physical exercise, nutrition, self-care and much more! Our employees currently enjoy free yoga, free lunch and learn sessions, free weekly nutritional breakfast bar, walking groups and CEO hikes, weight loss challenges and access to fresh, local fruits and vegetables!
---
To Apply:
Are you ready to be a difference maker? If you are interested in applying for any of the following opportunities, submit your cover letter and resume to resumes@billwilsoncenter.org.
We prefer to receive all inquiries by email, however, you can also fax your information to (408) 244-4022.
Current Openings
---
LGBTQ Programs
Under the supervision of the Program Manager, the Latino MSM Outreach Worker is responsible for HIV outreach services to gay Latino youth and young adults, program evaluation and reporting
---
Mental Health Programs
We are actively recruiting a part time Psychiatrist (8 hours per week) who will be an Independent Contractor and will work with Transition Age Youth (18-24) Mental Health Services. Hours may increase in January 2018.

Are you an excellent communicator, motivating, and action-oriented behavioral health professional? Are you passionate about helping people make and sustain change in their lives? If so, Bill Wilson Center is currently looking to fill a licensed Clinical Supervisor position opening at our Behavioral Health programs in San Jose, CA to provide clinical supervision to AMFTs, ASWs and APCCs! The ideal candidate has extensive experience in clinical work with youth/young adult clients in an outpatient setting; experience with providing clinical supervision, management and leadership; and has knowledge of Short-Doyle Medical regulations. In this position you will be able to work with a passionate and mission driven team with diverse skill sets and will report directly to the Division Director.

The Clinical Supervisor provides clinical supervision, training and support to staff and interns within the Behavioral Health programs in Santa Clara County. This position is responsible for ensuring that all appropriate professional standards, licensing/certification and clinical contract requirements are met. The incumbent is also responsible for assuring Santa Clara County programs and services are culturally proficient/responsive and client-centered.

The Family Wellness Trainer/Parent Partner provides peer support to family members of youth receiving School Linked Services and Intensive Outpatient Services. The Family Wellness Trainer/Parent Partner is REQUIRED to have lived experience as a parent, grandparent or foster parent dealing with mental health issues.

The Family Wellness Trainer/Parent Partner partners with parents/family members as a peer advocate to increase empowerment in getting their needs met. As a crucial part of the provider team, the Family Wellness Trainer/Parent Partner engages families in services and works with caregivers individually so they can better support the youth in their lives. These services can include Special Education, Mental Health Services, Human Services such as CPS or Child Welfare, Juvenile Justice or Probation.

The Clinician II provides youth, families and support persons with outpatient mental health services such as individual therapy, family therapy, group therapy, collateral sessions, outreach within regulations and standards of MediCal and MHSA. The Clinician 2 provides youth and families therapeutic Transformation Care Planning (TCP) services which includes client centered family individual and family counseling/therapy and skill enhancement and develop to capitalize on clients strengths and assets and build self-efficacy to enhance emotional wellbeing and improved functioning in life domains.

Clinician II (Bilingual: English/Spanish) – Youth & Family Crisis and Aftercare Services Become a difference maker and join Bill Wilson Center's NEW Crisis and Aftercare program for youth and family! The Crisis program offers clients 1-3 sessions of short term therapy and the Aftercare program offers mental health services between 3-months to 6-months of therapeutic services. The Clinician 2 will provide mental health crisis intervention services to clients in the community (home, school, etc.). Clinicians will also provide aftercare services to clients following crisis. Salary starts at $57K per year for bilingual candidates.
---
Residential Programs
The Residential Counselor cares for youth housed in Quetzal House by performing the following duties. Some awake overnight and weekend coverage may be required.

Sunday – Thursday
3:30 PM – 11:30 PM

The Residential Counselor cares for youth housed in Quetzal House by performing the following duties.

Awake overnight coverage required.

The Residential Counselor cares for and supervises youth housed in our Runaway and Homeless Youth Shelter by performing the following essential duties and responsibilities. Awake overnight and weekend coverage required.

Full Time Shift: Tuesday night – Saturday night from 11:00 P.M. – 7:30 AM

The Cook prepares and cooks family style meals for residents of the Shelter.
Monday – Friday 20 hours per week

RELIEF Residential Counselors provide shift coverage for openings in the Shelter or Quetzal House schedule and care for and supervise youth housed in our residential programs by performing the following essential duties and responsibilities when scheduled. There is no set schedule or guaranteed hours for relief workers.

All shifts - Overnight/Weekend Availability Highly Desired!
---
Foster Care Programs
Reporting to the Division Director of Residential Services, the Program Manager FFA/Adoption is responsible for ensuring compliant and trauma-informed services while providing leadership to the staff in these programs.

The Resource Families Recruiter and Trainer is responsible for marketing, foster care family recruitment, retention of foster parents, trainings and certification functions. Bill Wilson Center offers foster family certification for treatment foster care, Host Homes, Respite homes and Intensive Treatment Foster Care (ITFC). This position will also provide Case Management services to some foster care clients as required.
---
Housing Programs
The Site Services Supervisor for Peacock Commons provides residents with outreach, case management and recreation activities. The Site Services Supervisor also supervises the volunteer mentors living in the complex and coordinates with property management staff.

We have an immediate opening for a full time Case Manager for our City of San Jose Rapid Rehousing program! Case Managers provide case management and supportive services which secures stable housing for homeless youth and families.

We havean immediate opening a full time Case Managers for our NEW School Based Rapid Rehousing program through the SCC Office of Supportive Housing! Case Managers provide case management and supportive services which secures stable housing for homeless youth and families.

Under the direction of the Program Manager, the YAS Case Manager provides youth residing in the program with case management and support services.

Swing Shift: 5:00 p.m. - 1:30 a.m.

The Residential Counselor cares for and supervises young adults housed in our Young Adult Shelter by performing the following essential duties and responsibilities.

Awake, overnight REQUIRED – position hours will be Tuesday-Saturday, 12:30am-9:00am

Under the direction of the THP Program Supervisor, the RELIEF Residential Counselor cares for and supervises youth housed in SCC Interim Housing.
---
Independent Living Program (ILP)/HUB
---
Drop-In Center Programs
The Drop In Center Supervisor provides supervision and oversight of program and facility in the absence of Program Manager and provides case management, counseling and referral services to homeless and parenting young adults at the Drop In Center.

Under the supervision and direction of the Program Manager and Program Supervisor at the Drop In Center, the RELIEF Peer Counselors provide coverage and relief for staff on PTO, leaves, etc..

Under the supervision of the Drop In Center Program Manager. The RELIEF Peer Mentor is not a full time position, but provides relief/coverage for open shifts at the DIC Respite program (overnight) – hours, if any, are based on availability of open shifts.
---
Counseling Programs
The Director of Counseling Services oversees intern training and also directs staff engaged in providing counseling services. Responsible for supervision and management of all agency counseling services including the evaluation and quality of training and counseling services provided by staff and interns as well as contract goals.

The RELIEF Call Specialist will support the Contact Cares/Centralized Intake program by filling in shifts that need to be covered. The RELIEF Call Specialist will perform basic administrative duties, take calls when no volunteer is available and provide Centralized Intake services.
---
Community Resources
---
Administration
---
EEO:
Bill Wilson Center is an Equal Opportunity/Affirmative Action Employer.